Great Value Bedding
Our Great Value Summer Bedding is the economical way to fill beds, borders and even patio containers! We've selected 12 brilliant varieties to bring your garden to life. Whether you like to grow your plugs from their early stages, or you're looking for something to plant straight in your garden, we have a choice of 3 plant sizes for you to choose from – each for just £6.99 a pack when you buy any 3 or more.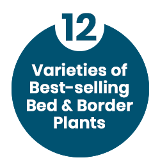 Super Plugs & Potted Plants
Our Super Plugs and Potted Plants feature some of the highest quality varieties, which are nurtured from cuttings and can transform your patio containers and hanging baskets. They're an ideal way to save time and will help you to quickly fill your borders and beds with strong, healthy plants. Choose your size and then choose from 12 stunning varieties that will bring some much-needed summer colour into your garden.